This page was originally published on December 2010 but updated on October 2012
The lumberjack style is becoming a fashion trend for the Fall/Winter season. Plaids and tartan will be dressing city men impregnating a homey and country air in their clothing. These are a few samples of how you can wear this trend if it fits your style. Click the images to enlarge and view the details.
Surely that instead of carrying an ax or saw chain you will be using a laptop, a tablet or a cell phone; but this style will anyway create on you the look of a hard working and vigorous man thanks to its plaids that reminds us of those tough country men that we all admire.
Enjoy this trend displaying it through your shirts and jackets while wearing your classic jeans or even casual pants; boots or lace up shoes. Keep in mind that both pants and shoes must be in plain colors with no lines to create a balance in your outfit and leaving all the spotlights aiming to your upper garment.
Are you here looking for MEN with STYLE? Then, we invite you to read and view this next page where you will find a few topics that you probably didn't realize play an important role in true style.
Click
HERE
Now check these lumberjack style shirts...
500+ LUMBERJACK STYLE / PLAID SHIRTS
Scroll down this window to view them one by one
The above window will display hundreds of plaid shirts by simply scrolling down.
If the images are too large, click them and you will be redirected to an external e-store to view them in various angles.
Converse One Star. Men's Long-Sleeve Benson Shirt in Blue Calico. $24.99 at
Target.com
Converse One Star. Men's Long-Sleeve Shirt in Blue Plaid.
Converse One Star. Men's Long-Sleeve in Red Plaid.
Converse One Star. Men's Long-Sleeve Benson Shirt in Red Calico.
Superdry Men Lumberjack Brush Shirt
The Lumberjack Brush Shirt by Superdry features: US sizing. Full button front closure with two chest pockets. All-over plaid pattern. Casual fit. Model is wearing size Large.
Before
$84
. Now $54.99 at
DrJays.com
Men's Plaid Fitted Western Yoke Shirt in Red Alert
Lumberjack pattern unites with Western style and contemporary details for a coolly rugged and individual look. The lightweight cotton features slim tailoring and contrasting fabrics under the collar and cuffs and on the convertible sleeve tabs.
$69.90 Sold Out!
Men's Plaid Fitted Military Shirt in Deep Purple
Feel at ease in crisp patterned cotton and fitted, military-inspired tailoring. Its comfort and utility will see you through any day of the week. $69.90
Sold Out!
Lacoste Live Men L/s Madras Print Poplin Shirt
The Madras Print Poplin Shirt by Lacoste Live features: Purple plaid design 1-chest pocket with gator applique. Tailored for a skinny fit. Model is wearing size L.
$115 Sold Out!
Plaid Modern Fit Cotton Shirt in Cast Iron
Take a clean, less is more approach to fashion-forward style with a smooth French placket and no pockets. A versatile fit for a sleek look. Dress it up with a Producer Pant for the office or denim for the weekends. 100% Cotton. Modern fit, perfect for all body types. Point collar with removable stays. French placket. Adjustable cuffs.
Sold out!
Plaid Fitted Western Shirt in Bold Violet
Premium cotton fabric and western-inspired details add effortless style to your casual wear. Fitted for a trim, clean finish. 100% Cotton. Cut slimmer through the shoulders, chest and waist. Point collar with contrast detail. Western-style yoke in front and back. Contrast roll-tab cuffs with adjustable sleeves.
Sold out!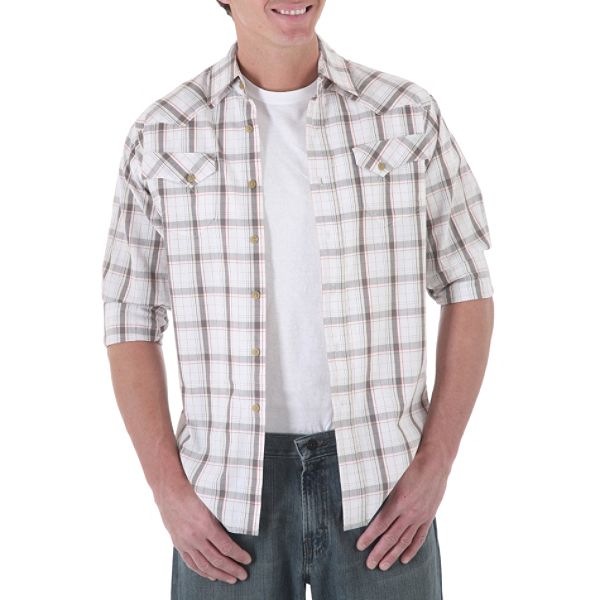 Wrangler Men's Plaid Long Sleeve Shirt in Pew
Pointed collar. Long sleeve. Not too fitted, not too loose. Button front. Double flap pockets. Stitched seams and hems. Material: 100% Cotton. Care: Machine washable. Made in USA.
Sold out!
Conv1 Long Sleeve Shirt Red and Yellow Plaid by Converse One Star.
Sold out!
Conv1 Long Sleeve Shirt Blue and Purple Plaid by Converse One Star.
Sold out!
The Lumberjack Woven Shirt by Crooks and Castles
Features: Plaid flannel fabric two chest pockets Single denim tab on front Full button closure True to size Model is wearing size XL.
Sold out!
Superdry Lumberjack Brushed Twill Shirt in Smith Blue
Lumberjack style plaid twill button down shirt with dual breast pockets. 100% Cotton.
Sold out!
Honolua Tahoe Shirt Jacket
A lumberjack with a soft side- really soft. Satin-lined shirt jacket features buttoned chest pockets, a quilted lining, and sewn-down neck label. Regular fit, 100% cotton shell, 100% polyester satin lining.
Sold out!
EVEN MORE LUMBERJACK STYLE SHIRTS FOR YOU!
Place your mouse over the images to read the details and pricing.Click when you are ready to buy on line.