Weddings and tuxedo suits are a perfect classic match that neither time nor new fashion trends would ever set apart. The only question here is; what tuxedo style should you wear?
This page was created to help you locate in one single spot at least three of the most wanted looks that grooms will surely be wearing on that unique special occasion.
So, simply click the above choices to see designs and descriptions among 'Tails, Black or White' suits. We've also added a couple black tuxedo jackets just in case that's all you are missing in your outfit.
Before you start digging any further, share this additional page with your beloved bride... she'll surely find her dress and will love you more for helping her out!
Just tell her to click this image:




Back to groom's attire... when you have selected your favorite piece, make sure you thoroughly read the description to learn what the suit actually includes.
Here is the first group, the...
Groom's Suit. Black Tails Coat Tuxedo Jacket by JoS. A. Bank.
Wool with soft shoulders. Superfine 2 star rating. Center vent.
Men's Black Tuxedo with Tails
A five piece (5pc) complete groom attire package that includes: Jacket, vest, pants, tuxedo shirt, and satin bow tie. The jacket has 3 outside pockets and 3 inside pockets and is fully lined. Both jacket and pants made in high quality Super 150s wool; ideal for year-round use.
Collection Tail Suit
A ready to wear suit for your wedding, designed by DSI. Available in Black or Black Stripe and in chest sizes 28", 40", or 42"
Ralph Lauren 3 Button Black Notch Tuxedo with Pleated Pants
3 Button jacket with satin notch lapel, flap pockets with satin besom and no vent. Single reverse pleated trouser with side seam pockets, suspender buttons and satin side braid. A groom attire in 100% Super Fine Wool.
Calvin Klein Men's SB 3 Button Solid Black Wool Tuxedo
This jacket design is single breasted with satin notch lapels and lightly padded shoulders. Offers one left chest pocket plus two flap pockets outside and three pockets inside. Four sleeve buttons and jacket closure with three front buttons. No vents. Fully Lined. Pants with single reverse pleats; two side seam slash pockets; suspender buttons; satin side braid; two back pockets; unhemmed bottoms and lined to the knee. Shell: 100% Super 110 Wool; Lining: 100% Rayon; Made in Canada.
Hugo Boss Black 3-Button Classic Tuxedo Suit
Single-breasted 3-button tuxedo design with satiny smooth traditional tux lapels. Chest Pocket and slit front besom pockets. Squared wrist cuffs with four elegant buttons. Pleated pants with standard smooth stripe down out seams and plain waistband. Made in 100% pure virgin wool.
Ralph Lauren 2 Button Black Tuxedo Suit
This classic Ralph Lauren's men's wool tuxedo is suitable for any formal setting, like your upcoming wedding. The jacket presents a chest pocket and two flap pockets and 2 front closure buttons. The pant is non pleated.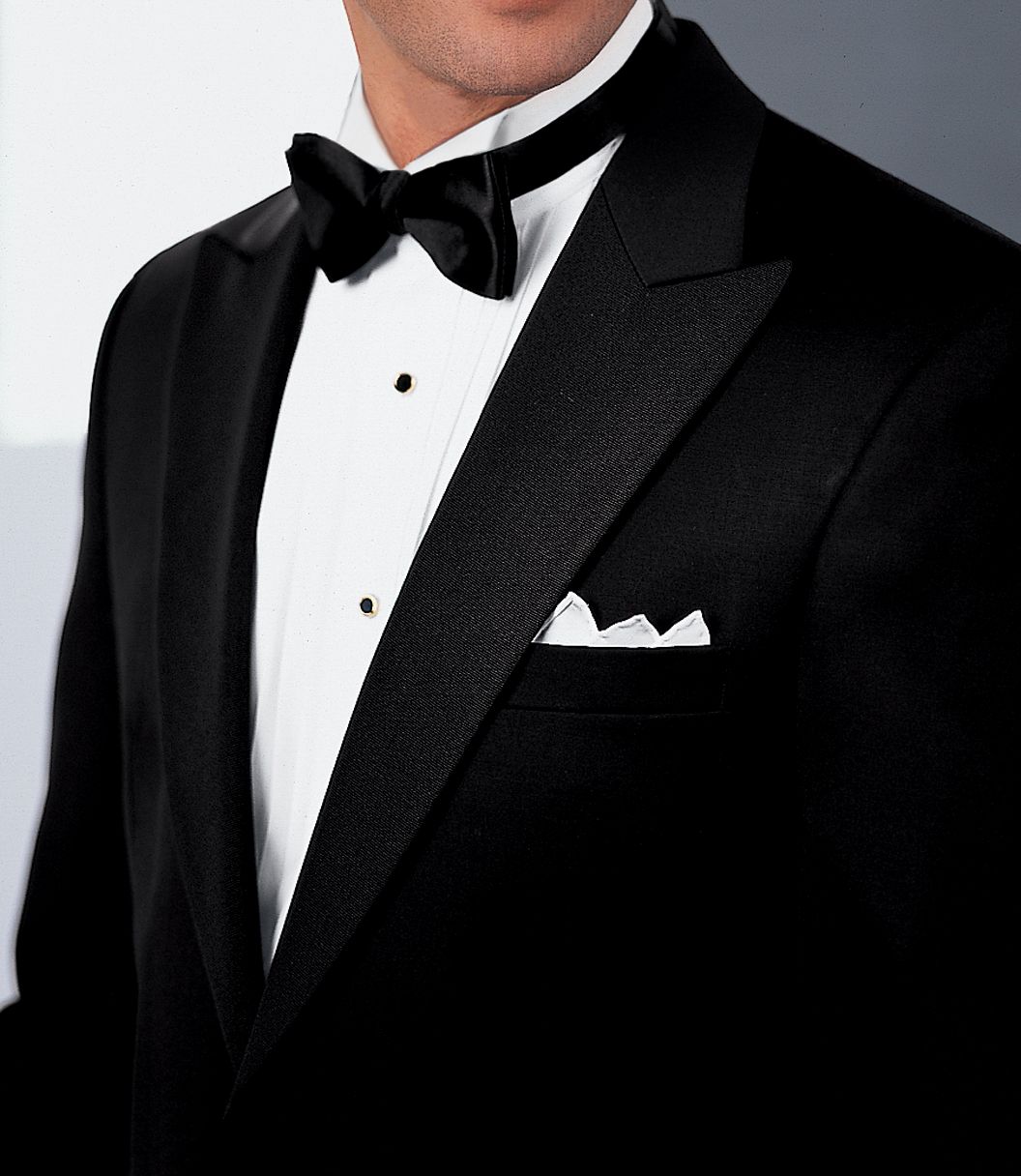 Men's Suit Signature Peak-Lapel
Black
Tuxedo by JoS. A. Bank.
The ultimate in elegant style and superior quality attire for the groom. Tailored in superfine wool with Bemberg lining and grosgrain satin lapels and buttons. Single breasted, peak lapel jacket with one button closure. Unvented and fully lined. Single-pleat trousers with grosgrain satin stripe, half lined to the knee. Unfinished bottoms for altering ease.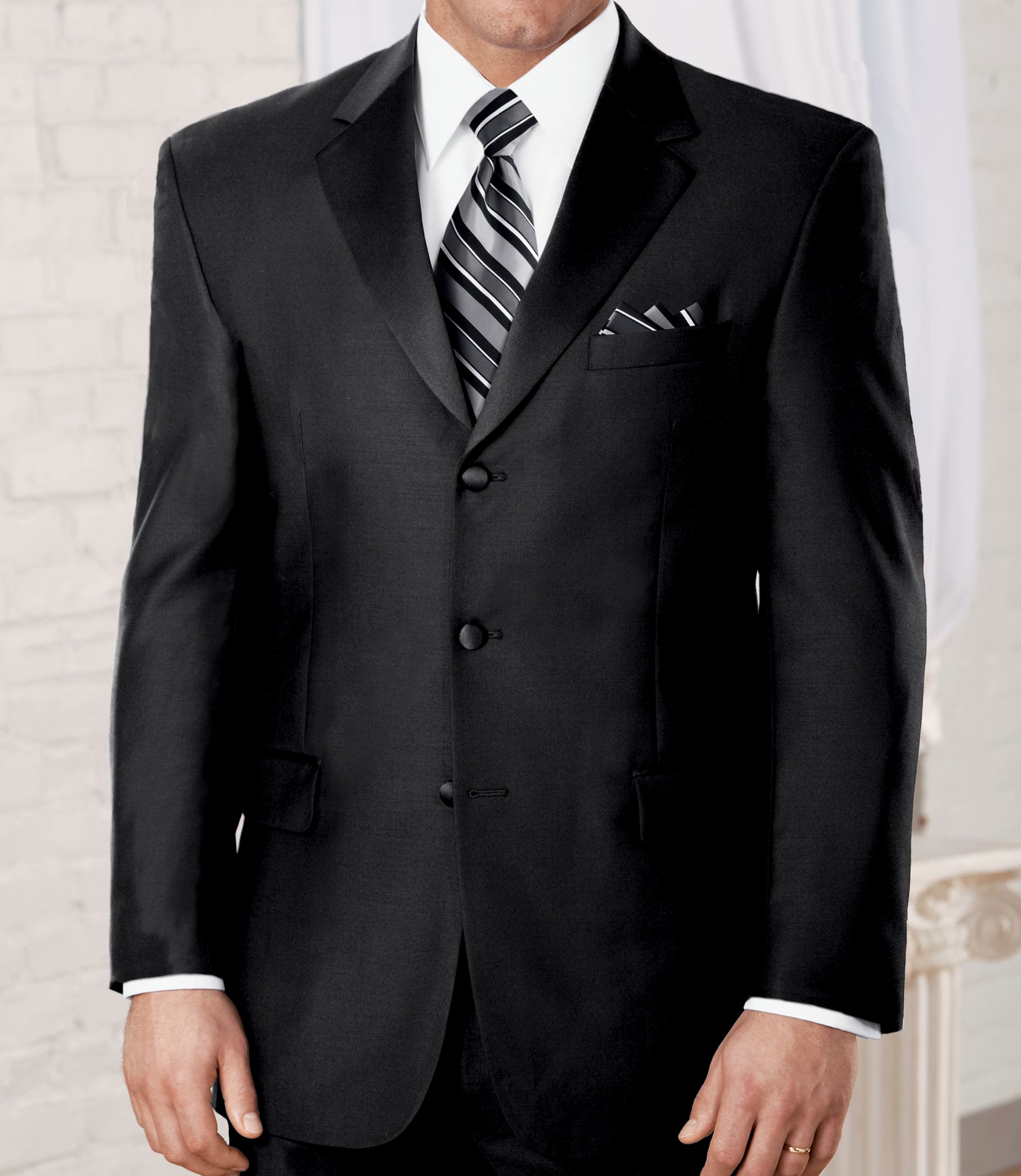 Men's Suit Signature 3-Button Notch Lapel
Black
Tuxedo by JoS. A. Bank.
Superfine wool with Bemberg lining and tailored shoulders. Single-breasted with 3-button front, center vent. Satin lapel and buttons. Double reverse pleated trousers with satin stripe, half lined to the knee. Trousers have unfinished bottoms for altering ease.
TUXEDO JACKETS ONLY
Tommy Hilfiger Men's 2 Button Tuxedo Jacket with Shawl Collar
Tuxedo suit separate coat in tapered silhouette with a natural, rounded shoulder. Satin covered buttons on sleeve. Satin french faced jacket interior side panels and signature ithaca inner sleeve lining. Sits closer to the body without being too constrictive or too slim. Comfortable range of motion; natural movement. Side Vent. Trim Fit. Color: Black. 100% Wool.
Tommy Hilfiger Men's 2 Button Black Tuxedo Jacket with Peak Lapel
WHITE & OFF WHITE JACKETS AND SUITS
Ivory~Off White Groom's Notch Laple Tuxedo by Lorioano. Single breasted tuxedo dress suit that features a premium grade satin notch lapel, and three-button jacket with double besom pockets.
Groom wedding attire featuring a 3-button tuxedo dress suit in white. One chest pocket and two side pockets.
36" Length coat with satin notch lapels, satin top collar, self flap pockets and five front buttons.
Matrix style jacket in white. Mandarin collar, 45 inch full length and 10 front buttons.
Light weight men's tuxedo suit in white
This wedding groom attire includes a 3-button jacket, matching pleated trousers with adjustable waist, vest, tuxedo shirt and bow tie. The jacket offers a single breasted design, double besom pockets, notch lapel and no vent. Easy care light weight fabric.
- back to the top -