Prom day is definitely not just another party, it is unique and one that you and everybody else involved in the celebration will always remember; and now thanks to social media, images of this event could go viral and global. So how would you like to be seen then? Hope you have in mind a stylish look because that is what you will get in the following designs.
Note that these options are grouped in three different sections; the first one for the suits, the second for ties and vests in case you all classmates decide to wear colored sets; and the third section for additional designs, more colors and accessories you might need to add including bow ties, cummerbunds and shoes.
So now, let's start with...
$335.80
Sold Out!
Hover over this link to find a similar piece:
Amazon.com
$157.34
Sold Out!
Hover over this link to find a similar piece:
Amazon.com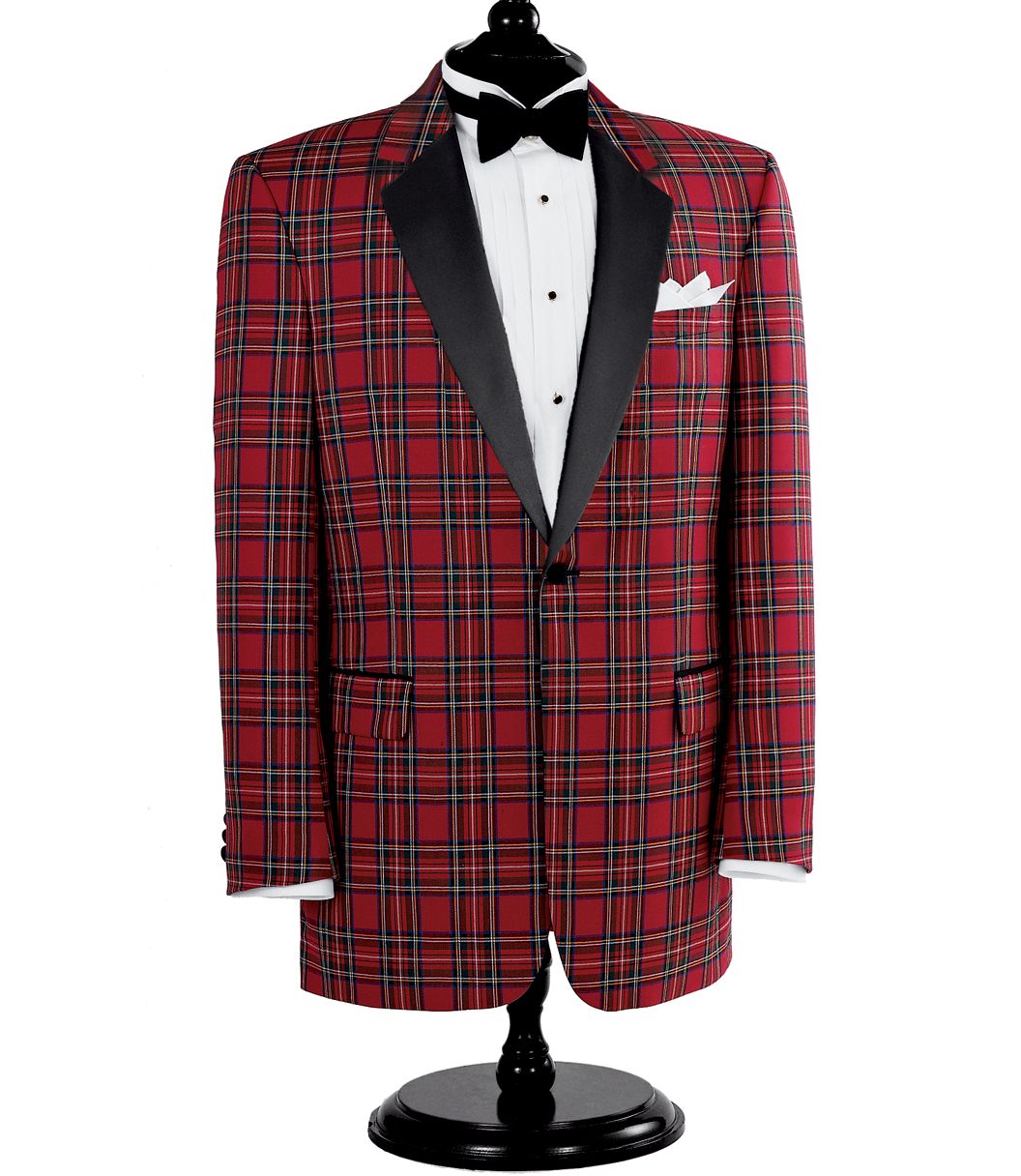 Red Stewart Tuxedo Dinner Jacket for Men, by JoS. A. Bank. Classic plaids in 100% wool with satin lapels. Superfine 2 star rating. Notch collar with 1-button, single-breasted front. Fully lined, center vent.
$319.06
Sold Out!
Hover over this link to find a similar piece:
Amazon.com
Premier quality Italian fabric tuxedo in Super 150's wool. Includes a 3 button jacket and pants. Jacket with no vents. This high-quality wool is the lightest, softest and finest you can get.
Mandarin collar suit in white. 8 button jacket, extra fine and super light weight material; hand made with french cut. Pants half lined to the knee.
$215.46
Sold Out!
Why rent when you can buy? This is an eight-piece men's formal tuxedo - all you will need is a pair of shoes. Includes a formal single breasted tuxedo jacket (each sleeve has three covered buttons), pants (pleated with black satin lines), gold vest, tuxedo shirt (pick size from small - 5x with payment), gold tie, reversible gold/black scarf, gold handkerchief, and a cummerbund. The pants are a standard six inch drop, meaning that if you order a size 46 jacket, it will come with 40 inch pants. Cummerbunds do not come with purchases of sizes 54 and up.
$179.99
Sold Out!
Ralph Lauren 3 button notch tuxedo with any size pleated pants. 3 Button with satin notch lapel, flap pockets with satin besom and side vents. 100% Super fine wool. Newman trouser. Double reverse pleats with side seam pockets, suspender buttons and satin side braid. Pre-hemmed bottom.
Tuxedo jacket and pants in Super 120's wool premier quality Italian fabric, by Fellini. The jacket is styled in a 2 button design with lower pockets with flaps. The pant has double pleats and is lined to the knee. This suit has been finely constructed in a luxurious super fine and stain-resistant wool.
$204.06
Sold Out!
Hover over this link to find a similar piece:
Amazon.com
Jean Yves Mirage Tuxedo in solid black. Satin stand-up Mandarin collar and satin frontal piping. Single breasted jacket with no buttons and non-vented. Double satin besom pockets. Matching pleated adjustable waist trousers. Tuxedo trousers are shipped unhemmed. 100% Tropical wool.
Green tuxedo vest. Solid satin with matching pin ascot tie. Full back with five button in the front. By Cardi.
$79.95 at
Amazon.com
Black tuxedo vest and Windsor band tie. This 5 button full back vest is made of the finest quality 100% satin, and features two side pockets with stylish trim as well as an adjustable back for that perfect fit. It will surely look smart on you with your tuxedo jacket on or off.
$58.95 at
Amazon.com
Men's silver paisley design dress vest and necktie set for suit or tuxedo. Vest has adjustable back for a perfect fit. Designed by Vesuvio Napoli Italy.
White tuxedo vest for men with Paisley design. Solid full back with adjustable waistband and matching banded bow tie. Bring a dash of flair to any formal occasion with this woven vest and optional bow tie. Vest has five fabric buttons and two real pockets, it has an adjustable strap on the back that is hidden and the lining and back are white.
$23.99 at
Amazon.com
Tuxedo vest for men. Lavender Paisley designs in the front and solid full back. Vest includes a matching banded bow tie. Material: Poly woven. Fabric buttons. Adjustable waistband to give fitted look.
Men's hot pink fuchsia dress vest and necktie set for suit or tuxedo, by Vesuvio Napoli Italy. Material: Polyester.
$19.95 at
Amazon.com
These last images have a wider selection of tuxedos, shirts, bow ties, vests, cummerbunds and even shoes to complete your Prom look. When you find a piece you like, place your mouse over the image to get all the details including pricing; click it when you are ready to buy.